Custom Made 2H Angle Load
Brand: Bueno
Manufacture Date: December 2005
Australian Made
This float was custom made to suit the competitor, breeder and harness racing enthusist
Some of the features are
Extended lenght in front – I have used this space for feed storage, gear storage and for a dressing room at events, but could be easily converted in to kitchen area. Has swining and can be removed door into horse area. Lockable axcess door.
Full height upright tack box up the front, that holds from western to english saddles and has 4 bridle hooks and its own axcess door on the outside, so no getting in and out to saddle your horse. Lockable door.
Drop down USA feeder windows – Love these and would never have another float with out them as they allow each horse to see out and have full face air flow
Large sliding window behind horses for maximum air flow
Fully removable dividers
Full height doors at rear, and also has slide out tailgate – Great set up which means no more lifting a tailgate. Tail gate has only been used when I transport foals or our minis ponies. The rest of the time all our horses just step up and down and have found most perfer it this way
3 internal lights Front, horse area and tack box.
Swing up jockey wheel
Electric breaks and breakaway system
Tows beautifully and easily thanks to the larger 16" wheels
Removable cart hooks on the back
In great used condition and has always been shedded and cleaned after each use
Horse area on inside has just been repainted and new stone guard and paint on the a frame and front of mud guards as we were going to keep it
Regrettable sale as we have upsized to a truck
Price $12500
[img]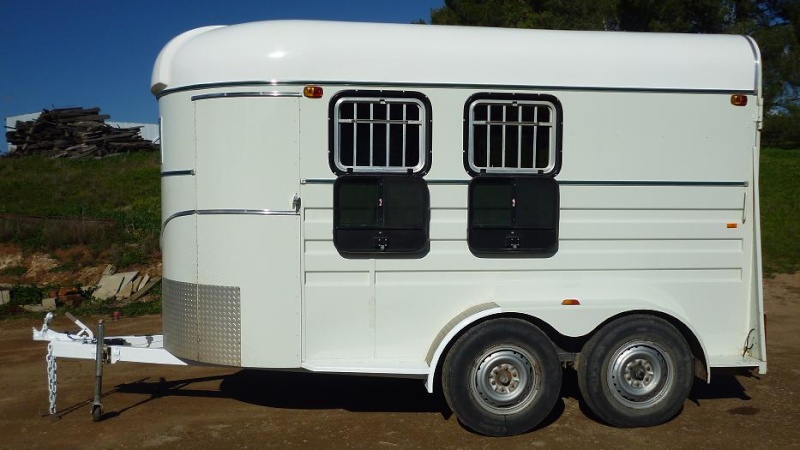 [/img]
[img]
[/img]