STOLEN - Ascot Vita Mono Dressage Saddle

from Clear Lake, Victoria, sometime between the 12th and the 24th of June 2014.
Havana Brown Ascot Vita Mono Dressage Saddle. 17.5 inch.
Pessoa Stirrup leathers (brown) that are well used but still in reasonable condition.
Stirrups are stainless with bendy bits in the side bars covered in black rubber with white stirrup tread inserts that are relatively new.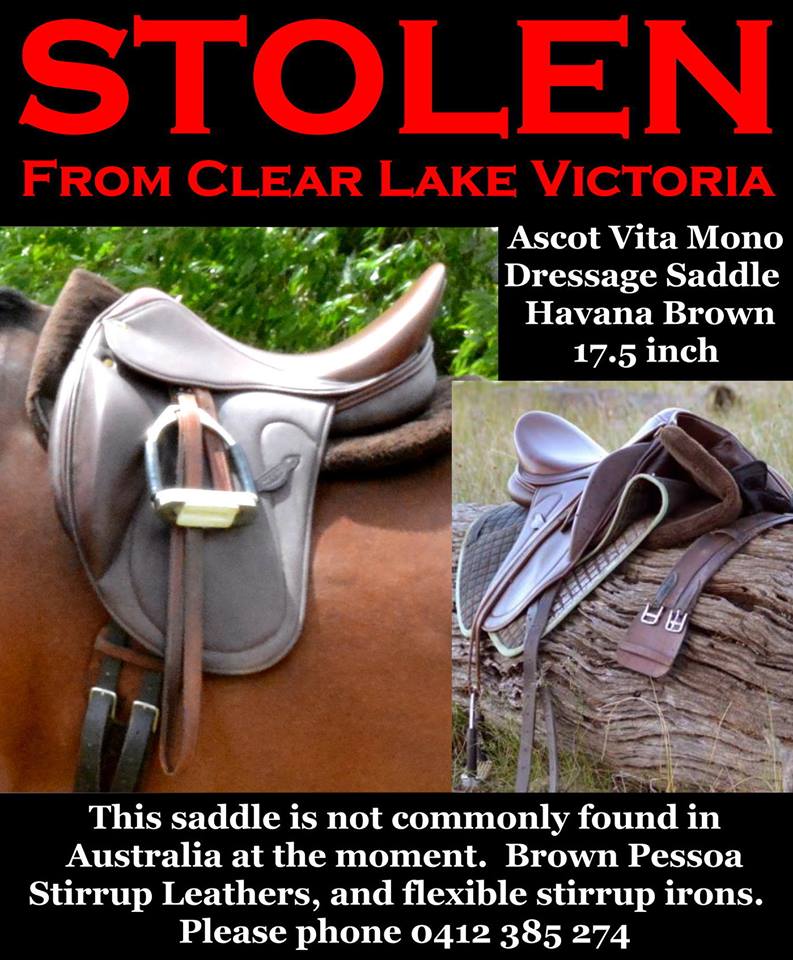 Saddle, Stirrups and Leathers were in a Roma Padded Saddle Bag - navy blue with light blue binding.
Please contact me via email or phone (text is fine as my phone connection is not fantastic) any time of day or night.
If anyone sees one for sale please let me know - there is another identifying mark that I will disclose to those who think they may have found it.
There are NOT many of these saddles in Australia at this time. Those who know what the identifying mark is please do not mention it - I do not want the scumbag who possibly has it tipped off that there is something that is totally unique to this saddle.
And for the bright sparks who have an opinion about my personal life at the moment - NO it is not insured - so do not even go there.
I am beyond angry that this has been stolen - it is obviously someone who knows me and knew what they were after. I cannot find another one of these saddles for sale anywhere - all google searches for them have come up with them already being sold or no longer having them in stock.... even the makers have said that they do not currently have any of them left. It is the only saddle that fit my stallion without having to stuff around with having it altered so at the moment he cannot be worked or competed without something to ride him in.
It may well have been dyed black or darker brown by now, and may well be interstate - hence posting it here.
Contact myself or the Natimuk Police Station (or Horsham Police - and ask for Peter Taylor). He has been fantastic thus far and does have some leads he is working on - however nothing concrete at this point.
Contact: Reigate Cleveland Bay & Sporthorse Stud 0412 385 274
Location: Clear Lake
Email:
reigatestud@gmail.com